We find ourselves with one car too many- Danielle's much loved purple Ford Telstar station wagon is redundant, now we have the grunty little Honda.
.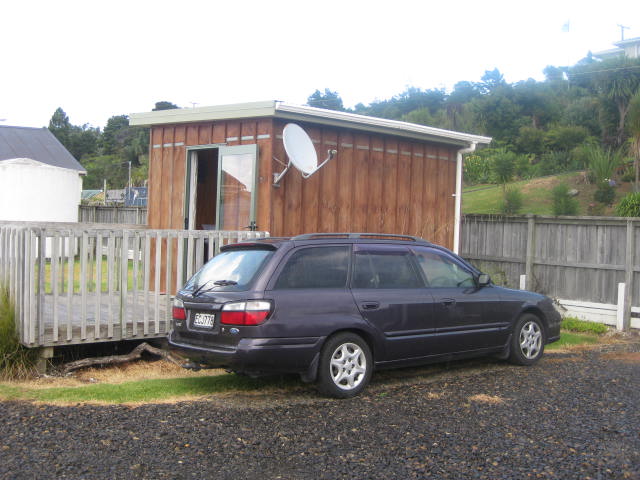 She bought ithe Ford in Thames, and thas taken us on many trips- here is it in the far north , at Tino Pai, on the Kaipara Harbour.
How to sell it? We decided to put it out on the main road to Hamilton, where 22,000 cars pass each day. It sat there forlornly all day Saturday and all day Sunday, in heavy rain. The equally heavy traffic did not pause , so we brought it home Sunday . On Monday morning, I turned the key – flat battery.
Danielle called the AA. That lovely reassuring yellow truck arrived.
'Let's just charge it and see if it goes… your battery is really due for replacement, but as you are selling….
He charged the battery and sent Danielle off on a 30 minute drive round Lake Karapiro.
Tuesday morning and Danielle is about to drive down to Hamilton Road to display the car. Flat battery again. So she rings the AA again.
' I think you really do need a new battery'
So, along comes Peter  from Lake Street Auto, carrying a new battery. Peter has been carrying our regular service and occasional repairs for the Ford for several years,so I guess he knew it was in good condition.
'Here's an idea for you.I need a new courtesy car- how about I put in a new battery, take off the cost, and take the car off your hands. '
So, for once, a flat battery has a happy ending.
And, living in a small town has yet another advantage.
PS Lake St Autos is not on Lake St at all- but at 30 Victoria St. Another bit of useful local knowledge!