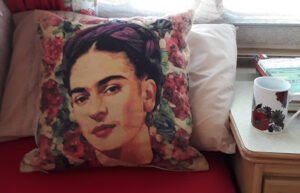 All summer our caravan has sat in the drive, while we travelled in in southern Thailand and Vietnam.
The lovely spa town of Te Aroha enticed us back into our caravan after far too long away. It was a perfect, calm, warm weekend of late summer.
In spite of months of neglect, the caravan was up and away within an hour, taking us to the cool swimming pool and rural ambience , in the lea of Mt Te Aroha. Danielle is living with a moon boot while her Achilles tendon joins itself up again, but she was very comfortable in the caravan and managed the walk to the pool and the shower.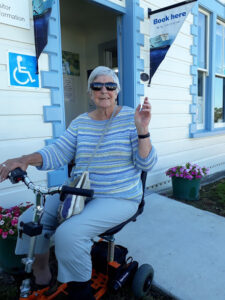 We have hired a very smart little mobility scooter, which enables us to go for walks of up to 10km before the battery runs out. By that time I too am exhausted and the dog is looking for a place in the shade. Te Aroha has thermal pools, bush walks, rushing mountain streams, and some cool wee cafes.
Our new companion in the caravan is the colourful artist Frida Kahlo, in the form of two cushions from my daughter.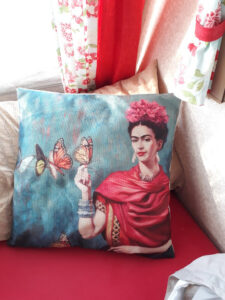 So no disasters this time! Danielle did a very neat piece of backing us into a shady place under a huge tree. But, on our return home, a neighbour over the road said he couldn't back, but his wife Jude was a dab hand.
Jude duly curved the caravan into the drive, and backed it so precisely for us- thanks for being a great neighbour !